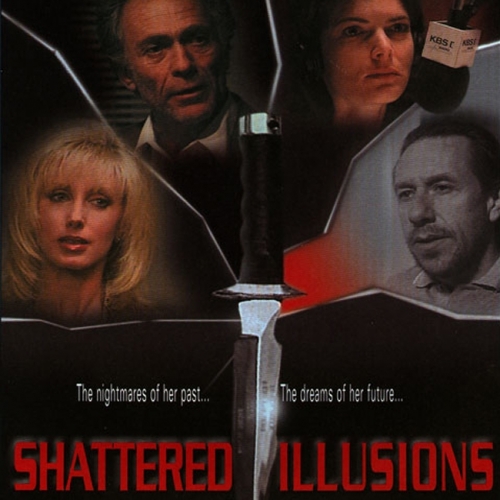 Shattered Illusions, distributed by World Wide Motion Pictures Company, stars actress Colette O' Connell and soap-opera legend Morgan Fairchild in a thriller that finds a Los Angeles-based radio DJ (Colette O'Connell) caught in the middle of her troubled past, tension in the workplace and a mysterious fan who commits several murders.
When Lynn Richards, played by Colette O'Connell, receives a job as a talk show host at KBST radio station in Los Angeles, she is given the opportunity to ask her audience questions about the different themes and illusions in life. At the station, Lynn finds herself under a tremendous amount of pressure from the station owner and her manager to maintain high ratings of her show and faces jealousy from a fellow station DJ, psychologist Angie Mason (played by Morgan Fairchild). In addition to her work pressures, Lynn is haunted by her father's alcohol abuse that contributed to a horrific accident that disabled her sister, Carrie.
When Lynn learns that her father has been paroled from prison after 12 years for Carries accident, she receives a mysterious phone call from a man named "Adam", who claims to be Lynn's biggest fan. Adam tells Lynn live on her radio show that "death is what we need", and a handful of people close to Lynn are murdered before she can find out who is behind her current torment.
Shattered Illusions features Colette O'Connell in the starring role of Lynn Richards. As an actress, Colette O'Connell has made a variety of film and television appearances, including the films Thirteen Days and Gabriela and the television shows The West Wing, Law & Order: Criminal Intent and CSI: Crime Scene Investigation.
Actress Morgan Fairchild costars in Shattered Illusions as Lynn's jealous colleague at the radio station, psychologist Angie Mason. An active actress since the 1970s, Morgan Fairchild has made a name for herself as a soap-opera legend, appearing in prime-time soap operas such as Flamingo Road, Paper Dolls and Falcon Crest. She has also guest starred in numerous memorable television shows, including Murphy Brown, Friends, and most recently Bones.
Shattered Illusions is available on DVD courtesy of World Wide Motion Pictures Corporation.


Starring:
 Starring Morgan Fairchild, Colette O'Connell, Leland Crooke, Dan Monahan and Bruce Weitz
Directed By: Becky Best
Written By: Toni Callas
Genre: Suspense/Thriller