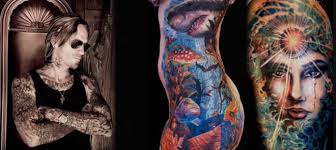 Tattoo artists have the authority to either empower an individual with their creative desires or turn down an ill-advised regretful mark. For example, many artists will not tattoo a name of a significant other unless they feel as if the person is going to continue in a long-term commitment. A neck or face tattoo is a huge pledge in the tattoo world and should not be chosen in a nonchalant manner. Additionally, some artists may confuse your vision of your ink with their own artistic niches. In World Wide Motion Pictures Corporation's documentary series Skin Deep, the featured artists explain to viewers that the best way to approach getting fresh ink is to give the artist ideas, but also the freedom to create a personalized design.
One such artist is F. Kirk Alley, owner of Kirk Alley's 1111 Tattoo Studio in Los Angeles. He explains, "I have to really pick and choose and screen people so I make sure that we are a match…Like anything else that's cool one minute, five years down the road it's not cool anymore. So you have to be careful about what you pick and what you wind up putting on your body…You see how the whole world is getting tattooed right now just as a fashion statement. Whether they admit or not, a lot of people, a huge percentage of people, are getting tattooed just for fashion, to be a cool."
Put another way, it's a tattoo artist's job to guide you in your ink-ed up endeavor. So stay calm and get a tattoo!