"All men are created equal. No matter how hard they try, they can never erase those words. That is what America is about." -Harvey Milk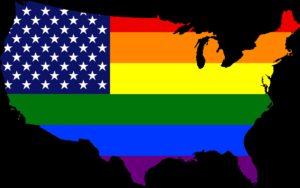 What is Coming Out Day? It is a day to stand with those coming out about their sexual orientation to their families and friends. It is a day to support the resistance to homophobia and transphobia across the nation. It is a day to celebrate the rainbow of sexualities under our united flag.
30 years ago, the 1987 National March on Washington for Lesbian and Gay Rights, also known as the "Great March," sparked an awareness of LGBT rights against president Ronald Reagan's lack of acknowledgment on the issue. The next year, Robert Eichberg and Jean O'Leary started the first National Coming Out Day. Today, while we have made immense strides towards social equality, countless Americans still have trouble feeling accepted themselves, and let alone by their communities. Therefore, it is up to everyone to help spread awareness for our acceptance as a whole. The best way to combat the lingering homophobia and transphobia in our country is to show America its true identity.
For this year's Coming Out Day, World Wide Motion Pictures Corporation would like to do its part by recommending a few great movies about coming out and other important LGBT+ topics.
Firstly, one of the funniest movies you could find is a 4th man out (2016). This charming movie about a man coming out to his friends on his 24th birthday doesn't fail to amuse. While 4th man out or Fourth Man Out? is not daring or new, it is certainly a pleasant watch. It is a movie equivalent of a lighthearted sitcom and could be enjoyed by any fan of the genre.
Next, a slightly older movie that conveys a similar tone is But I'm a Cheerleader (1999). This movie feels like a lighthearted sitcom like 4th Man Out, as Friends does to Parks and Recreation. Where 4th Man Out covers a group of young adults discovering a friend's true identity, But I'm a Cheerleader covers actress Natasha Lyonne's character and her completely unsupportive parents in a satirical manner. While film snobs could criticize its buoyant tone, it is definitely one worth watching for anyone who has had to come out to an unsupportive community.
Another small movie World Wide Motion Pictures recommends is Pop Kowboy (2012). Actor Shaun Driscoll and Ronnie Marmo star in this film about the complications of identity and romance in a very unsupportive world. Though a lesser-known entry on this list, Pop Kowboy, it is certainly one that embodies the spirit of Coming Out Day.
If you are not a movie person, supporting the community this Coming Out Day through volunteering or visiting your local LGBT centers are also very important. Whatever you plan to do for this day, World Wide Motion Pictures encourages you to support friends and family in accepting their identities, and, by extension, yourself.