9 years of unrivaled legacy from actors such as Malcolm McDowell, Olivia Tracey, Max Beesley, as well as Susan Lynch. The movie, Red Roses and Petrol revolves around the death of a family figurehead that reunites the dysfunctional family members. Malcolm McDowell (Enda Doyle) plays the role perfectly as a university librarian, poet, and an all-around complicated man that leaves the family very much scattered and drifted apart. The drama film, initially based off a stage play by Joseph O' Conner (who is a successful Irish novelist), won multiple awards ranging from Avignon Film Festival to the Palm Springs Film Festival due to its captivating moments that stem from its family disputes and instability.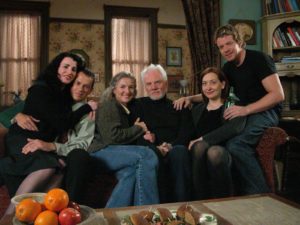 What the family could have looked like had Enda Doyle lived. Happily ever after!
Fast-forward 9 years from the theatrical release date of the film, these actors all have created a footprint in the industry and have are still pursuing great things. Malcolm McDowell will be co-hosting Broadway Barks, an annual event about a star-studded dog and cat adoption event that benefits New York City animal rescue groups whereas stars such as Olivia Tracey have taken more of a backseat route in producing films rather than acting in it.
If you have not had the opportunity to watch the film yet, you can find it here. It is also another one on the list to watch with your family during this Summer!