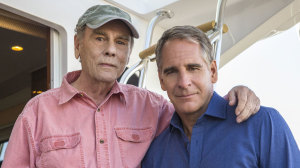 It's been ten years since Dean Stockwell and Scott Bakula worked on a set together, and twenty-five years since they were directed by James Whitmore Jr. Now they have reunited on Scott's newest show "NCIS: New Orleans," in an episode called "Chasing Ghosts." During this episode, a cold case (the murder of a Naval officer) is reopened due to a Naval-issued gun being found in the possession of a dead robber. Special Agent Pride, played Scott Bakula, is the officer in charge and figures out that this is no ordinary case because murder's prime suspect is Tom Hamilton, played by Dean Stockwell, is well sheltered by his political son. James Whitmore directed this episode and a number of episodes of Quantum Leap (15).The chemistry of these well-seasoned actors and their director, seem to make the perfect threesome.
The pair started their acting relationship when they were in the popular science fiction TV series "Quantum Leap" back in the early 90's. Scott Bakula played Sam, a scientist who is flung through time, due to a quantum physics mishap. During the course of the show, he tries to right history and help others. All the while, trying to go unnoticed by those people who may realize that he isn't who he looks like. Dean played Al Calavicci, Sam's holographic advisor (not visible to anyone but him) who provides key information about historical events and events to come in each episode. While their careers have taken them into different directions, they have all been apart of famous science fiction tv shows, including "Enterprise" and "Battlestar Galactica
"
Dean's character, Tom, is called "a violent drunk racist" by his son and that isn't a long way from the Nazi gold digger that Dean Stockwell plays in World Wide Motion Pictures Corporation's Rusty Steel. Here he also was the villain who double crosses his own niece to get a hold of sunken Nazi gold. The "Chasing Ghosts" episode of "NCIS: New Orleans" aired on November twenty-fifth at 9pm ET/PT on CBS.