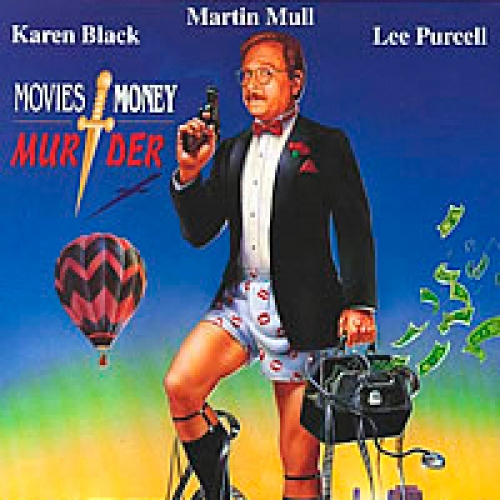 Movies Money Murder stars actor Martin Mull and actresses Lainie Kazan and Lee Purcell in a black comedy that finds Dr. Jim (Mull) in a compromising position between a seductive actress (Lee Purcell) and his domineering wife (Lainie Kazan) that ultimately leads to murder.
Lee Purcell plays the role of Lee McNight, an actress looking for financial assistance to produce her upcoming film, who promises to make Dr. Jim a famous movie producer if he provides her with money. When Dr. Jim agrees, a creative team for the movie is put in place at Dr. Jim's Beverly Hills home, where filming is set to take place. As they begin to film a scene of passion between Dr. Jim and Lee, Dr. Jim's wife unexpectedly walks in on the set and is unhappy with what she has just witnessed. In a heated moment of anger, Dr. Jim shoots his wife, leaving him and Lee to hide the body. The two are left to finish their movie and somehow cover their tracks by any means necessary, including murder.
Movies Money Murder marks a starring role for actor Martin Mull, whose acting credits include the films The Bodyguard, Clue, Mrs. Doubtfire and most recently 2010's Killers starring Katherine Heigl and Ashton Kutcher. In addition to his film credits,Martin Mull has made several television appearances over the years, including ROSANNE, THE SIMPSONS and TWO AND A HALF MEN.
Actress Lainie Kazan has kept herself busy in her years since appearing in Movies Money Murder. In addition to being a Broadway and stage veteran, Lainie Kazan has starred in several other feature films, including one of her most memorable roles to date in My Big Fat Greek Wedding alongside Nia Vardalos and John Corbett. She has also made many television guest appearances, including roles on THE KING OF QUEENS, UGLY BETTY and DESPERATE HOUSEWIVES.
Movies Money Murder is available on DVD courtesy of World Wide Motion Pictures Corporation.

Starring: Martin Mull, Karen Black, Lee Purcell, Paul Williams, Stephen Eckelberry and Laine Kazan
Directed By: Stephen Eckelberry, Arthur Webb
Written By: Karen Black
Alternate Title: Breaking Up with Paul
Genre: Comedy