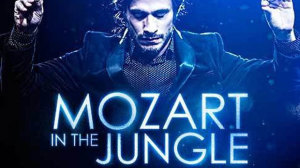 Renowned actor Malcolm McDowell has found himself a role on an Amazon Prime original series. "Mozart in the Jungle" is a comedy about what goes on behind the curtain of a symphony orchestra. Fans of the original source book called " Mozart in the Jungle: Sex, Drugs, and Classical Music
" are right to be confused, as the show goes off in a completely different direction. Instead, the plot revolves around rival conductors of the New York Symphony: one on the way up, Rodrigo played by Gael Garcia Bernal, and one on the way out, Thomas played by Malcolm McDowell.  Another central character is a very talented oboist, played by Lola Kirke, who is struggling to get by. She has the attentions of the handsome dancer, played by Peter Vack, and is suspected of using her wiles to get into the orchestra.
Malcolm McDowell plays a likeable villain so well, and his affair with Cynthia, played by Saffron Burrows, is very realistic and deeply felt. Bernadette Peters has another great character in the president of the orchestra, a woman who is looking for a way to bring classical music to the modern century. Perhaps this sex-driven, drug filled, and artistic side of classical music will bring the youth back to concert halls around the world. While some critics think this show only got good after episode six, others were hooked from the pilot and are looking forward to season 2.
The versatile actor has had many recent roles, including Stanton Ingfield on "Franklin and Bash" and Enda Doyle in Red Roses and Petrol.