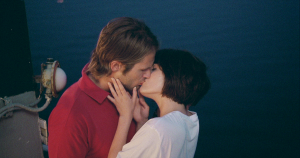 Love is in the air, and whether you have special someone or not, snuggling on the couch with a great film with a heartwarming love stories, is the perfect way to spend Valentine's Day. If you want a story about the first hints on love, then you should watch Ways to Live Forever - the charmingly hesitant chemistry between Ella Purnell, best known for Maleficent, and Robbie Kay, best known for playing Peter Pan in "Once Upon a Time," is magically innocent.  For a love story past adolescence, see Rusty Steel, a Romanian action film with a romantic subplot, featuring car chases, exploding sea vessels, and some great kissing scenes between the gorgeous Irina Bucescu and Johann Urb. For the LGBT genre, Pop Kowboy an action packed, quirky comedy about three outsiders finding their place in the world.
Today is not only Valentine's Day, but also Organ Donor Day, and though it may seem to be an unusual combination, a connection can definitely be made.  Love is symbolized through the heart, but it doesn't stop there. Love is shown in many ways, and one of those ways is becoming an organ donor. The current organ shortage has lead to eighteen people dying a day while on the waiting list. On the other hand seventy-nine people get another chance at life with their new organ and can live a long healthy life. Over 120,000 people are waiting for lungs, hearts, kidneys and livers on the waiting list, while about 15,000 people donate their organs per year. If this situation is unchanged, we will never be able to save everyone. Become a donor at the DMV and you too can save lives. Love comes in many forms, from your first love to the love you feel for your children.
World Wide Motion Pictures has a number of films that will make you feel good about both of these yearly milestones.