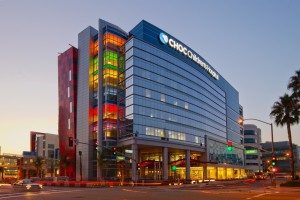 Ways To Live Forever has stolen our nation's heart and gained a vast amount of support from charities and children's hospitals alike. World Wide Motion Pictures would like to take a closer look at some of the film's supporters and see what goes on in the fight against cancer here in Orange County.
So we decided to take a close up look at one of the film's supporters: Children's Hospital of OC (CHOC). CHOC has been named one of the top ranked hospitals by U.S. News in 2013 and 2014 - specializing in childhood cancers. Its great work and location has gained the hospital the support of celebrities such as Britney Spears, Ryan Seacrest, and many others. In addition, the hospital is also supported by the Happiest Place on Earth: Disneyland!
Since CHOC's doors opened in 1964, the Walt Disney Company and even Walt Disney himself have supported the hospital every step of the way. Walt helped fund the construction of the first building of the hospital complex in 1960. In 2012, the company endowed upon the hospital a generous donation of $5 million to help construct the hospital's newest annex, which features magical characters and engaging experiences designed by Disney cast members and imagineers. That magical touch that Disney has provided the hospital spreads a little magic to children who don't often get to enjoy it the way others do.
After all, happiness is a treatment for nearly all  illnesses, and of course with a little touch of pixie dust on the side, anything is possible!