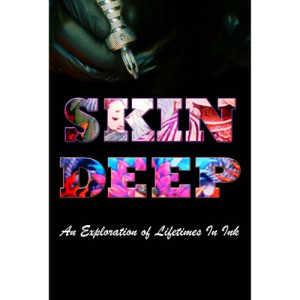 Skin Deep is a five-episode series exploring the world of tattooing and its history. Each episode highlights a particular artist and style, including Polynesian and modern ink.
Starring: Tricia Allen, Kirk Alley, Greg James, Erika Stanley, John Brian "Swag" Knowles
Directed by: Tony Miller
Genre: Documentary
Run Time: 134 minutes
Episode 1 - Sunset Strip Tattoo 
Featured artists: Greg James
Full body and Japanese style tattoo work go together on the Sunset Strip. Plus, do tattoo artists stop themselves from doing something their clients might regret?
Episode 2 - Kirk Alley
Featured artist: Kirk Alley
Kirk got his start back in the Motley Crue days, and today has an unique approach to formulating his artwork.
Episode 3 - Erika Stanley, Art and Soul Tattoo
Featured artist: Erika Stanley
Erika discusses her fascination with the wide variety of people who get tattoos, plus being a woman in a male-dominated art form.
Episode 4 - Swag's Tattoo Lounge
Featured artist: John "Swag" Knowles
The late artist known as Swag discusses personalization, making tattoos unique to each individual, and the pain threshold for men versus women.
Episode 5 - Tricia Allen
Featured artist: Tricia Allen
Tricia discusses modern Polynesian style tattooing and its evolution.