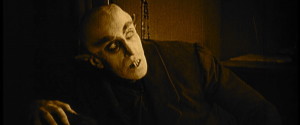 Wondering what to do for Halloween this year? Feel like staying in? Instead of carving yet another pumpkin or dressing up in outlandish outfits, you can relax and binge watch amazing classics like The Woman in Green, Dick Tracy Meets Gruesome, Nosferatu, and more modern slasher pics like Killers (aka Real Killers). The quarter moon will be a perfect time to curl up and watch a film.
Sherlock Holmes and the Woman in Green was written by Bertram Millhauser and directed by Roy William Neill. Together they made over 150 films from the 1920s through the 1940s. Sherlock Holmes was a special passion for Roy Neil, as he created many films based on the famous books by Sir Arthur Conan Doyle. While today's versions are flashy and action-oriented, there is nothing like the watching the original masters at work. The Woman in Green concerns the murders of four women. The trail of clues leads Homes to a society of hypnotists and a web of blackmail. Holmes becomes convinced that the only person that could be responsible for such evil doings is his archenemy, Professor Moriarty (played by Henry Daniell - The Philadelphia Story).
World Wide Motion Pictures also has the classic film Dick Tracy Meets Gruesome written by Robinson White, Eric Taylor (1943s The Phantom of the Opera) and directed by John Rollins. The incomparable Boris Karloff plays Gruesome in this film, who starred in such horror classics as Frankenstein from 1931.  In the film, Gruesome is assumed to be dead by the police after inhaling nerve gas and passing out.  After being transported to the morgue, Gruesome awakens and escapes and other criminals begin to adopt the tactic - and Dick Tracy (Ralph Byrd, also of the 1950s TV series), steps in to put a stop to the trickery.
Killers (aka Real Killers) is one of the featured films on indiemoviestore.com. It is a cult classic horror about two siblings who kill their parents in cold blood and become the objective of obsession of the family who takes them in after escaping death row. It was written by Dave Larson and directed by Mike Mendez. Mike also directed and edited Big, Ass Spider! Dave Larsen also serves as one of the film's writers and receives producing credit as well.
Nosferatu is one of the best and most well-known silent films. Max Schreck stars in this 1922 German expressionist film as the vampire Count Orlok. Hutter, played by Gustav von Wangenheim, an employee at a real estate agency, pays a visit to Count Orlok's home on behalf of his employer. During his stay, Hutter gets more than he bargained for as he realizes Orlok is not just the eccentric gentleman up the road. Max played mostly out of the ordinary characters, such as elderly and grotesque figures, and he had talent and passion for makeup and costume design.  Max Schreck played hundreds of roles in his lifetime.
So, curl up with your movie watching buddy and enjoy these spooky Halloween spirit classics. Happy Halloween from World Wide Motion Pictures Corporation!