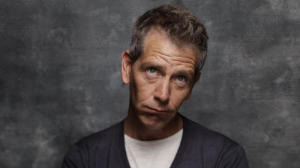 Last week the LA Times featured Ben Mendelsohn and his charming nervousness at the Sundance Film Festival premiere of Mississippi Grind. The film's story concerns two gamblers, one down on his luck with financial problems (Ben Mendelsohn), and the other a younger, dynamic, free-spirited risk taker (played by Ryan Reynolds) . They embark on an adventure where they reconnect with past lovers and have an encounter with a loan shark, where they make ill-advised bets. The film has an unorthodox style of narration that typical viewers may not be used to.
Ben Mendelsohn apparently never watches himself on screen, and this film was no exception. As soon as the screening at Sundance started, he left for a cigarette break. His wife, Emma Forrest, acts as his eyes at screenings and helps him judge the quality of his performances.
This isn't the only film that Ben Mendelsohn is in at Sundance this year; he also appears in Slow West a film about a sixteen-year old rich, Scottish boy who travels to America to find his love, in the 19th century. This film is about surviving and learning how to be a good man in a harsh world. Ben's career has taken off in Hollywood in recent years, he became well known during his role as John Daggett in The Dark Knight Rises
, where he plays Bruce's business rival, yet he started as a leading man in Australia as a teen.  In Amy distributed by World Wide Motion Pictures, Ben plays a sensitive musician that helps the titular main character, Amy, connect to the real world through singing. Ben Mendelsohn has said that roles like these suit him better, as he is a naturally sensitive person.