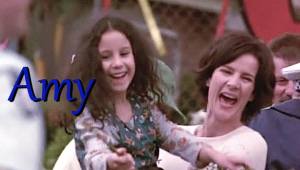 The beloved Australian film Amy turns 16 years old this year. Alana De Roma, Rachel Griffiths, and Ben Mendelsohn starred in the film about a girl with hysterical deafness. The film captured the hearts of many around the world, winning numerous awards in the process.
Alana De Roma, who played the title character, now in her early twenties, is still asked about her role in the film. Since the film, Alana De Roma has been teaching dance classes in Australia.
Since Amy, Rachel Griffiths has kept busy as an actress in America, where she has appeared in several hit films including My Best Friend's Wedding
 alongside Julia Roberts. She also appeared in 1997's Hilary & Jackie
 for which she was nominated for an Academy Award for Best Actress in a Supporting Role. Her resume also includes the film Blow
 and Saving Mr. Banks
. Rachel Griffiths has also starred in two popular television series, including HBO's Six Feet Under and ABC's Brothers and Sisters with both shows garnering the actress several award nominations. Her newest project is in Stalking Julia, a television movie about the former Australian Prime Minister Julia Gillard. The television movie is currently in post-production.
After Amy, Ben Mendelsohn appeared in films such as The Dark Knight Rises
, Killing Them Softly
, The Place Beyond the Pines
, and  Killer Elite
. He has been nominated for eight Australian Film Institute awards and he won Best Lead Actor and Best Actor in a Supporting Role. Ben has also won an Astra Award for the Most Outstanding Performance by an Actor-Male. His most recent film is Starred Up
, a film about a teenager who meets his father while in jail.
Amy is now available on VOD and Digital Download at http://indiemoviestore.com/amy-movie/ In the month of December, for the first 10 people that use the code DECEMBER10 at checkout, you can buy the film at 75% off.